2020 in Review: Patent Litigation Cases in the Oil and Gas Industry

2020 in Review: Patent Litigation Cases in the Oil and Gas Industry
Antoine Jean [1] and Jeremy Lawson [2]
ROBIC, LLP
Lawyers, Patent and Trademark Agents
The year 2020 will be remembered as a time that caused serious repercussions in many industries both nationally and globally. However, based on statistics reviewed up to the end of November this year[3], it appears that overall patent litigation has remained relatively constant in the Federal Court of Canada over the past 5 years including 2020.
More particularly, the number of patent litigation filings in the oil and gas industry does not seem to have been notably affected by the pandemic. Nevertheless, the oil and gas industry accounts for a relatively small proportion of filings compared to the pharmaceutical industry, which on average accounts for approximately 60% of all patent cases each year. See the below chart for how patent litigation filings at the Federal Court have trended in pharmaceuticals, oil and gas, as well as overall since 2016.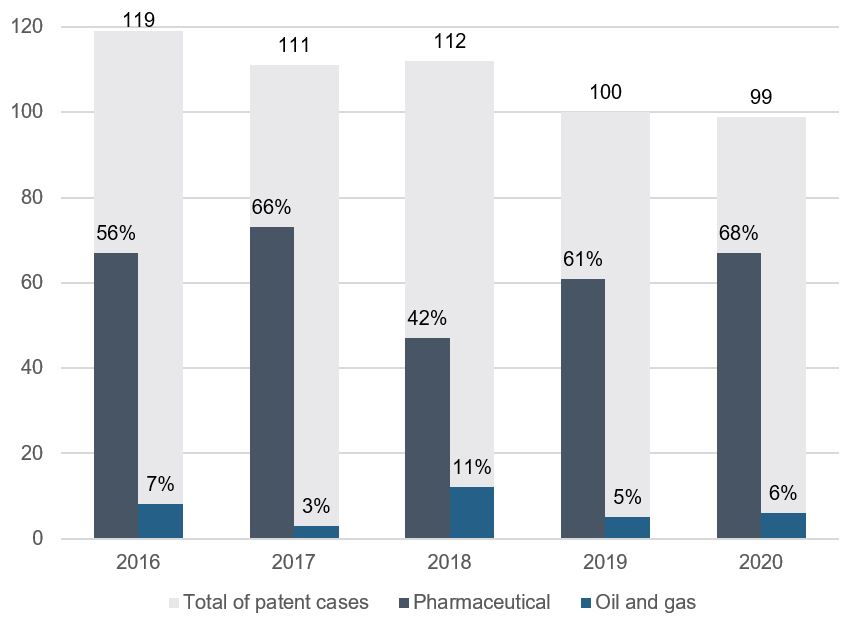 We shall see whether 2021 presents novel trends in Canadian patent litigation as the effects of the pandemic continue.
---
© CIPS, 2020.

[1] Antoine Jean is an articling student for ROBIC, LLP, a firm of Lawyers, Patent and Trademark Agents.

[2] Jeremy Lawson is an Engineer, Patent Agent and Partner for ROBIC, LLP, a firm of Lawyers, Patent and Trademark Agents.

[3] For the purposes of this publication, data were collected up to November 24, 2020, online. We considered all patent matters, including those relating to PM(NOC) Regulations and those of a more administrative nature.