ROBIC APPLAUDS THE GENEROSITY AND INGENUITY OF ITS CLIENTS. HERE IS THE INSPIRING STORY OF LAMBERT!
Simplifying the daily life of active women by creating a multi-functional bag with a chic and professional look was the source of inspiration for Mélissa Lambert, mother of three boys aged 7, 3 and 1, and the president of Lambert.
"It's a very simple idea that inspired me to dive right in. I was looking for a chic and practical backpack in which I could carry all my personal belongings, and which could also serve as a maternity bag. To my surprise, I couldn't find anything that met my expectations on the market. I therefore decided to turn my idea into reality," explains the entrepreneur, who is barely 35 years old.
Rather than continue her research, Mélissa Lambert began designing an initial model that could meet her needs. With the help of a designer, she was able to put her ideas on paper. It was necessary to keep in mind the profile of the target clientele: the young woman, mother or professional, always on the go and carrying a multitude of things in her bag. The dreamed prototype was therefore realized, by hand, by the same designer.
That's when the adventure began. Even though the idea was great, Lambert Design Inc. still had to find a manufacturer who would accept to produce the backpack which contained several production issues linked to the complexity of its numerous compartments. At first, the search proved disappointing, until the day Mélissa Lambert joined a group on a trade mission to Las Vegas where the merchandise display was at its peak. During this visit, she realized that Lambert's future could be assured by entrusting the manufacturing of its bags to the Guangzhou-based manufacturing expertise, which possessed all the necessary equipment to do the job.
"It was a bit scary to go international, and everything was going well prior to COVID outbreak. The creation of the bags takes place in Québec, but confection is done in China. We therefore decided to evaluate the possibility of transferring the confection to Mexico, since it is much closer to Canada. I also came to realize the importance of diversifying production. What we just went through had a significant impact on the supply of materials long before COVID-19 reached us," she says.
In its early days, the small team created three different models: one more suitable for maternity, and the other two designed for the modern and dynamic woman aged between 25 and 35 years old. At that time, Mélissa Lambert was doing traveling sales to businesses and individuals, all while being on maternity leave. That didn't stop her from launching an online store on September 1, 2017.
Two months later, she opened a temporary boutique in Old Montreal for the holiday season. Thanks to the popularity of her products, the boutique became permanent and, after several weeks of questioning her future and that of her small business, Mélissa Lambert made the decision, in March 2018, to invest herself in Lambert full-time. She and her team of 5 employees even took over the 2nd floor space, what is now their offices.
After an appearance on the TV show "Dans l'oeil du Dragon", Québec's equivalent to Dragon's Den, interest for Lambert's products grew significantly. People quickly adopted the concept and Mélissa Lambert was able to consolidate several commercial agreements with numerous retailers. It is thus possible to buy Sara (named in tribute to her designer), Charlotte, Olivia, Gabrielle, etc. bags in several stores in Québec. Ms. Lambert mentions that the choice of names for each of her bags is based on the first names of the people who inspired the different models.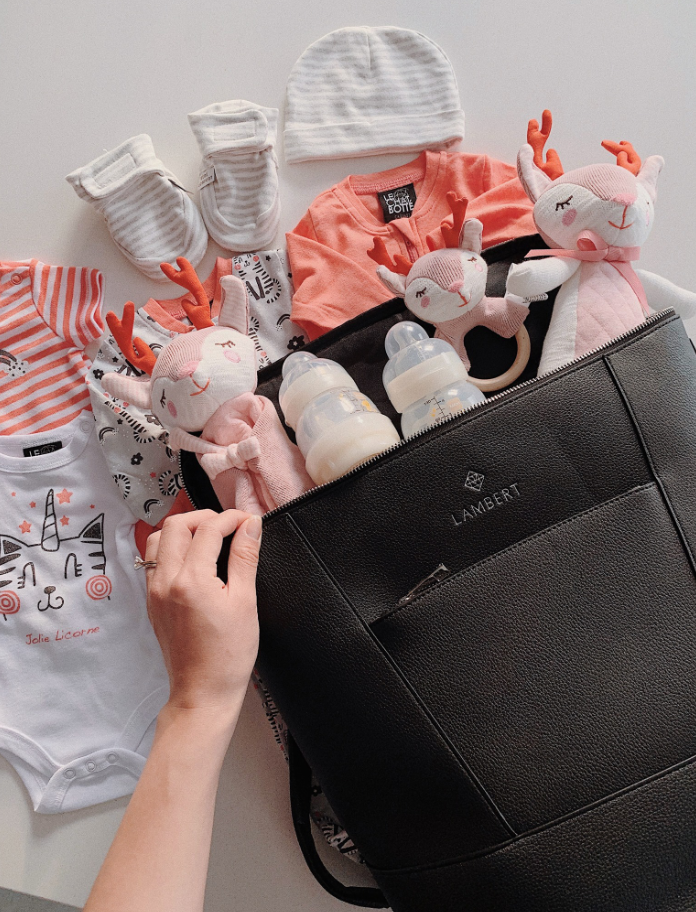 When asked about the future, her plans are to tackle the Canadian market very shortly as she would like to make her mark in our major Canadian cities. In addition, she points out that the future lies in the creation of products made from plant-based leathers, such as pineapple, which are more expensive than synthetic leathers but have good environmental properties. Making biodegradable bags would be an eco-responsible choice that corresponds to the company's values, according to its president.
"I would like to have a beautiful collection of vegan leather products in 5 years' time! " she says in an assertive tone, before adding: "The key to success lies the constant improvement of one's environmental impact".
As for the best lesson learned by the young entrepreneur, she answers: "The most important thing I think is to surround yourself with good people in order to succeed in business. You can't do it without trusting those around you, without delegating and without being able to let go. You can't take everything on yourself."
ROBIC IS PROUD TO SALUTE THE COURAGE OF THIS ENTREPRENEUR WHO WAS ABLE TO REALIZE AN IDEA THAT TODAY ALLOWS HER TO SATISFY A GROWING CLIENTELE! CONGRATULATIONS AND LONG LIFE TO LAMBERT!

THE BENCHMARK FOR
INTELLECTUAL PROPERTY