ROBIC APPLAUDS THE GENEROSITY AND INGENUITY OF ITS CLIENTS. HERE IS THE INSPIRING STORY OF LACROIX BOARDS!
A Québec innovation for urban extreme sports enthusiasts is once again spreading around the world due to the contribution of LACROIX BOARDS CO., a firm that specializes in the manufacture of high-end, battery-powered electric skateboards.
For several years, Alexandre Archambault, a lawyer by training, had been looking for new means of transportation to get to his workplace in downtown Montreal. In 2017, he started focusing on the possibility of developing a skateboard that would allow him to combine this passion of his with more practical considerations.
He then started to evaluate offerings from various board manufacturers and distributors to finally settle on a board having pneumatic wheels. But this product had important issues involving disconnection with the brakes. This offered him an opportunity to improve the product.
Thus, the idea of developing a high-end product that is safe and accessible only to board sports enthusiasts was born in the minds of Alexandre and his brother Patrick. The two brothers then joined a community of board sports specialists in order to share advice and to find partners with the goal of developing the meta product in the field.
"The initial idea was to find experts, engineers, to help us build a prototype that my brother and I had thought up and designed. Two engineers contributed to our project and our board was born." says Alexandre Archambault.
The LACROIX board and its battery pack became available to the skateboarding community in March 2018, which, at that time, had 1500 active members around the world. The LACROIX name originates from the Mount Royal and its mythical cross. The Archambault brothers have ridden the slopes of Camilien-Houde street hundreds of times with their boards and, the cross at its summit became a beautiful inspiration.
In June 2018, due to the popularity of his board and a growing order book, Alexandre Archambault decided to leave the firm where he had been working for several years to devote himself to the manufacturing and marketing of their latest innovation. "Since 2018, I've been managing growth. We have also conceptualized three new models since May 2019. We are a small team of ten employees dedicated to delivering high-performance, high-end products to enthusiasts around the world, and we have a very niche customer base."
LACROIX BOARDS CO. products are not available to everyone. First of all, you have to master the sport, which is certainly an extreme one, since the boards can theoretically reach speeds of up to 150 km/hour. Wearing protective clothing and a helmet to avoid injuries in case of a fall is strongly recommended for this sport. Using a joystick, the rider can calibrate his or her speed and activate the brakes. The young company pays particular attention to all safety aspects of its products.
"Our clients are extreme sports enthusiasts between the ages of 30 and 50. They are looking for thrills and have the financial means to purchase a product that costs 4,000 US dollars. It's a sport that carries a high risk of injury. You have to be an expert; you don't start skateboarding on LACROIX boards." says Mr. Archambault. As far as regulations are concerned, Alexandre Archambault explains that the sport falls in a gray zone and that there are ongoing discussions with the City of Montréal for defining a new personal and electric mode of transportation.
"We are in favor of the mandatory helmet and open to possible training and even registration of the boards. With their day and night brake lights, our boards are safe, and we are keen on raising awareness among users. It goes without saying that respecting speed limits is fundamental." he says with great transparency.
As for the future, the 38-year-old entrepreneur plans to compete with Chinese manufacturers by acquiring commercial space to produce 5 to 6 times as many LACROIX boards at a more affordable cost. In the short term, he also wants to develop high-end peripherals that will be added to the hundred or so products already on sale on the lacroixboards.com website.
As a lawyer, Alexandre Archambault admits that he has had to let go of certain old habits – the practice of law being a rather solitary one. He says he has had to adjust and stop wanting to do everything by himself, learn to manage his time, trust and delegate. However, in his opinion, training as a lawyer is the best way to make the leap into business because of the risk assessment skills that he has carried over, which is a major aspect of a start-up company.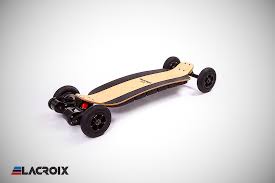 ROBIC congratulates Alexandre Archambault and his brother for their audacity and determination that today allow them to make their mark in a market that is gaining in popularity and that keeps on rolling… thanks to LACROIX boards!

THE BENCHMARK FOR
INTELLECTUAL PROPERTY